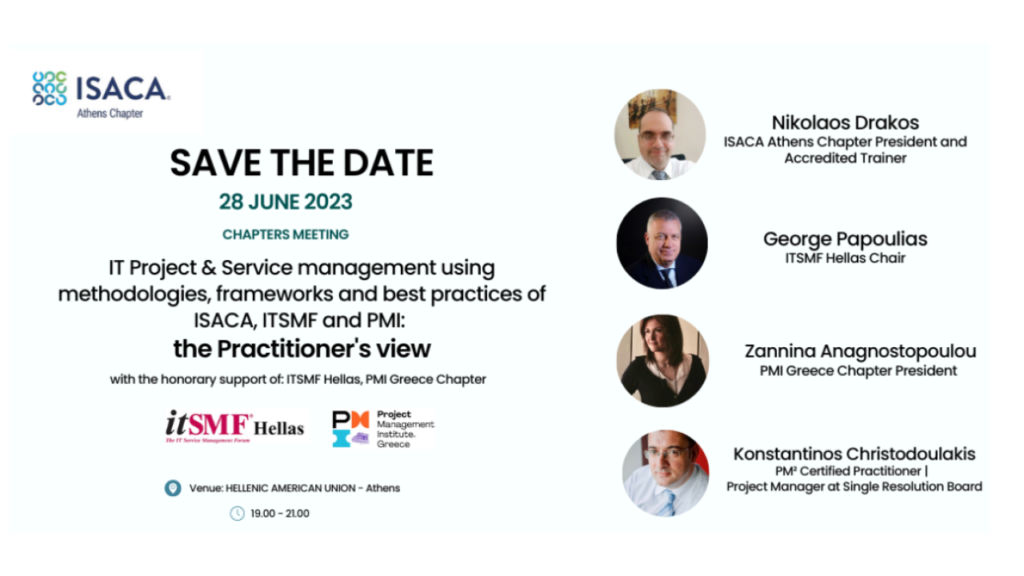 For the first time ever, ISACA Athens, ITSMF Hellas and PMI Greece Chapter join forces in an educational event, providing actionable knowledge to empower you in your IT endeavours!
It is well known that effective governance over information and technology is critical to business success. ISACA's COBIT Framework is an important driver of innovation and business transformation.
ISACA Athens Chapter President and Accredited Trainer Nikolaos Drakos will provide valuable insights on the framework, showcasing its use as a common denominator in the IT Service and Project Management processes.
ITIL 4 Framework is a holistic approach to Service Management, while ITSMF provides the ITIL 4 Certification Scheme and other Service Management Frameworks.
ITSMF Hellas Chair George Papoulias will present us how "Service Intelligence" provides a chance for ITSM to shine.
PMI Greece Chapter provides the ecosystem and framework for a leadership-focused project manager with a sense of mutual responsibility in a projectized contemporary Greek environment full of challenges.
PMI Greece Chapter's President Zannina Anagnostopoulou will present the current methodologies and practices offered by PMI.
Last but not least, the esteemed IT practitioner Konstantinos Christodoulakis will share valuable insights on best practices for effective monitoring and controlling Project & Service delivery from end to end, using the abovementioned methodologies and frameworks. Through compelling case studies, the practitioner will delve into the challenges faced, outcomes achieved, lessons learned and provide valuable recommendations.
Read More