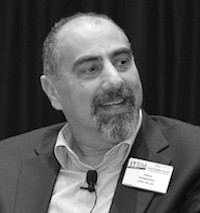 Tassos Alefantos
Honorary Chairman
Tassos Alefantos is a high calibre Management Executive with over 28-years of international experience in the areas of Information Technology, Telecommunications, intelligent transportation systems, Business Development and Airport Operations. Results-driven and customer-focused maximize the business value created by IT units. Possessing unique experience in shaping the strategic direction, developing high-performance teams and transforming IT from a cost centre to profit centre,
with a very strong relationship management capability and proven commercial acumen.
Disposing of extensive knowledge and experience in Corporate and IT Governance, IT Service Management and working intensively on the issue of IT Business Value; he holds Certifications in Information Systems Auditing (CISA), ISO 20000 Auditing, ITIL, Governance of Enterprise IT (CGEIT), Risk and Information Systems Control (CRISC). He is the founder and current chairman of the Greek chapter of IT Service Management Forum (ITSMF Hellas is a not-for-profit organisation).